About the department
We are very proud to be one among the department in Meenakshi Sundararajan Engineering College. The department of Civil Engineering was established in the year 2002. Under the erudite leadership of Dr. L. Ramajeyam, Head of the Department along with the efficient faculty members and excellent students, the department has won laurels to the college. It has a separate block equipped with all facilities and laboratories such as Strength of Materials Lab, Construction Materials and Advanced Construction Engineering Lab, Highway Lab, Survey Equipment Store, Hydraulics Lab, Computer Lab, Geology Lab, Microbiology Lab, Public Health Lab, Soil Lab, Advanced Computing Techniques Lab. Civil Department comprises of Bachelor of Engineering course in Civil Engineering and Master of Engineering course in Construction Engineering and Management. The department has a separate ICI (Indian Concrete Institute) students chapter and has a strong association with PWD, Highway Department, TWAD, SERC, CMRL, Chennai Port Trust, Metro Water, L&T, Utracon Structural Systems, Langdonseah. Civil department conducts various technical seminars, conferences, workshops and faculty development programme at regular intervals apart from academic curriculum to make both students and staff updated with latest research areas and trends in the Civil Engineering Field.

Accredited by the National Board of Accreditation for 3 years from the Academic Years 2023-2024 to 2025-2026 i.e. upto 30.06.2026


(Previously from the Academic Years 2020-2021 to 2022-2023)


Vision, Mission and PEOs of the Department
Vision Statement
To develop technical man power by facing challenges in emerging technologies through excellence in education, research and scientific training with socio-economic involvement.
Mission Statements
M1: Transcending, disseminating and integrating knowledge of engineering, science and technology.
M2: Developing and innovating in applications through interdisciplinary research and development projects in collaboration with stakeholders.
M3: Acting as problem solvers by acquiring relevant skills required for a wide range of career challenges.
M4: Creating opportunities in a collaborative and sustainable environment and encouraging students and staff to achieve the best.
Program Educational Objectives
PEO1: To have strong foundation in fundamental concepts and to excel in technical knowledge in the latest trends.
PEO2: To attain a successful career position in civil engineering field.
PEO3: To get exposure in multidisciplinary challenges to obtain practical knowledge.
PEO4: To engross in life-long learning of the latest trends, modern tools and technologies.
PEO5: To inspire and practice technical standards and ethical values.
Program Outcomes
The graduates in Civil Engineering will:
PO1 : Engineering knowledge: Apply the knowledge of mathematics, science, engineering fundamentals and engineering specialization to the solution of complex engineering problems.
PO2 :Problem analysis: Identify, formulate, review, research literature, and analyze complex engineering problems reaching substantiated conclusions using first principles of mathematics, natural sciences, and engineering sciences.
PO3 :Design/development of solutions: Design solutions for complex engineering problems and design system components or processes that meet the specified needs with appropriate consideration for the public health and safety, and the cultural, societal, and environmental considerations.
PO4 :Conduct investigations of complex problems: Use research-based knowledge and research methods including design of experiments, analysis and interpretation of data, and synthesis of the information to provide valid conclusions.
PO5 :Modern tool usage: Create, select, and apply appropriate techniques, resources, and modern engineering and IT tools including prediction and modeling to complex engineering activities with an understanding of the limitations.
PO6 :The engineer and society: Apply reasoning informed by the contextual knowledge to assess societal, health, safety, legal and cultural issues and the consequent responsibilities relevant to the professional engineering practice.
PO7 :Environment and sustainability: Understand the impact of the professional engineering solutions in societal and environmental contexts, and demonstrate the knowledge of, and need for sustainable development.
PO8 :Ethics: Apply ethical principles and commit to professional ethics and responsibilities and norms of the engineering practice.
PO9 :Individual and team work: Function effectively as an individual, and as a member or leader in diverse teams, and in multidisciplinary settings.
PO10 :Communication: Communicate effectively on complex engineering activities with the engineering community and with society at large, such as, being able to comprehend and write effective reports and design documentation, make effective presentations, and give and receive clear instructions.
PO11 : Project management and finance: Demonstrate knowledge and understanding of the engineering and management principles and apply these to one's own work, as a member and leader in a team, to manage projects and in multidisciplinary environments.
PO12 :Life-long learning: Recognize the need for, and have the preparation and ability to engage in independent and life-long learning in the broadest context of technological change.
Course Outcomes
Click for 2021 Regulation - UG Civil Engineering
Click for 2017 Regulation - UG Civil Engineering
Click for 2013 Regulation - UG Civil Engineering
Click for 2017 Regulation - PG Construction Engineering Management
Click for 2013 Regulation - PG Construction Engineering Management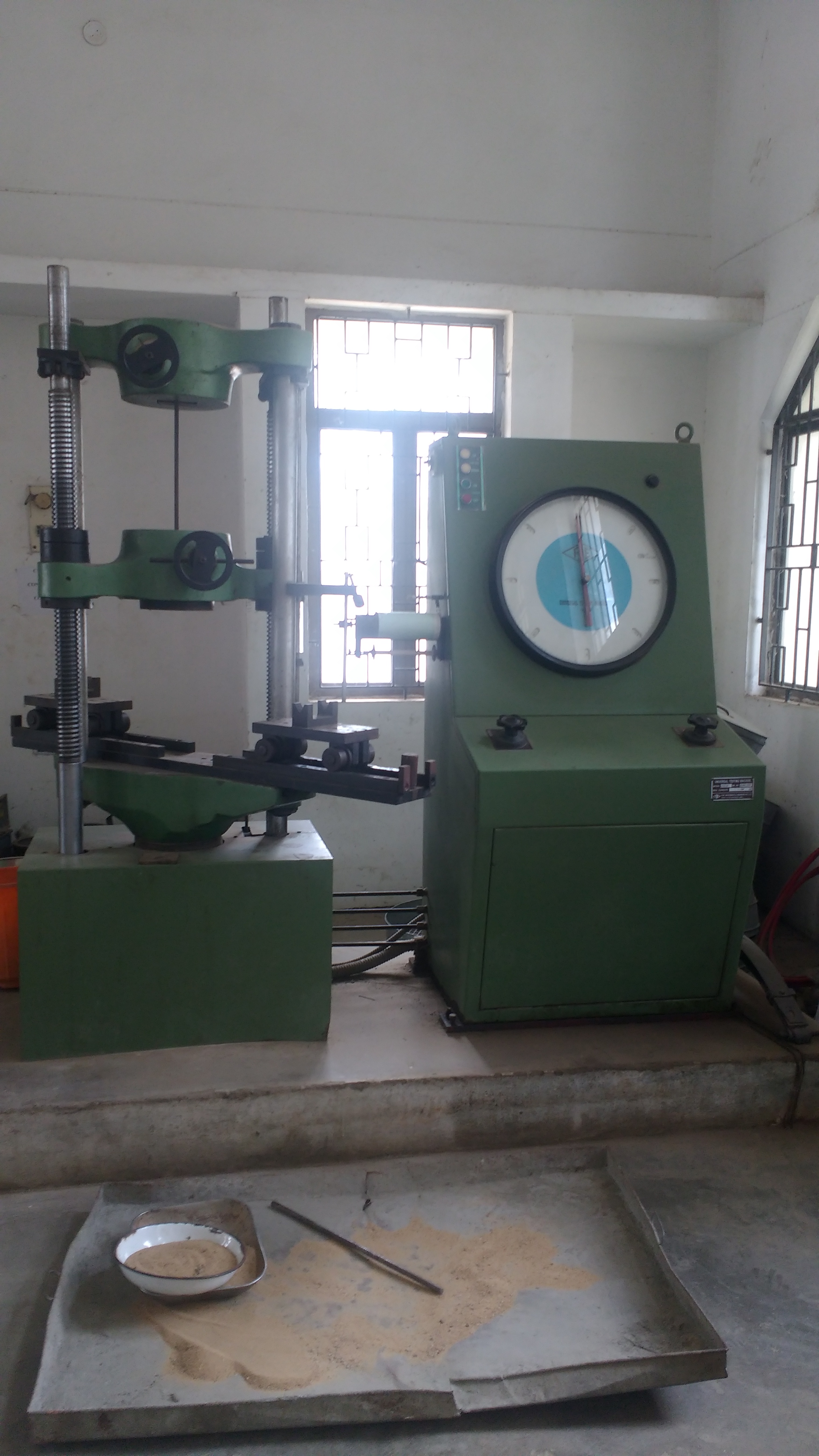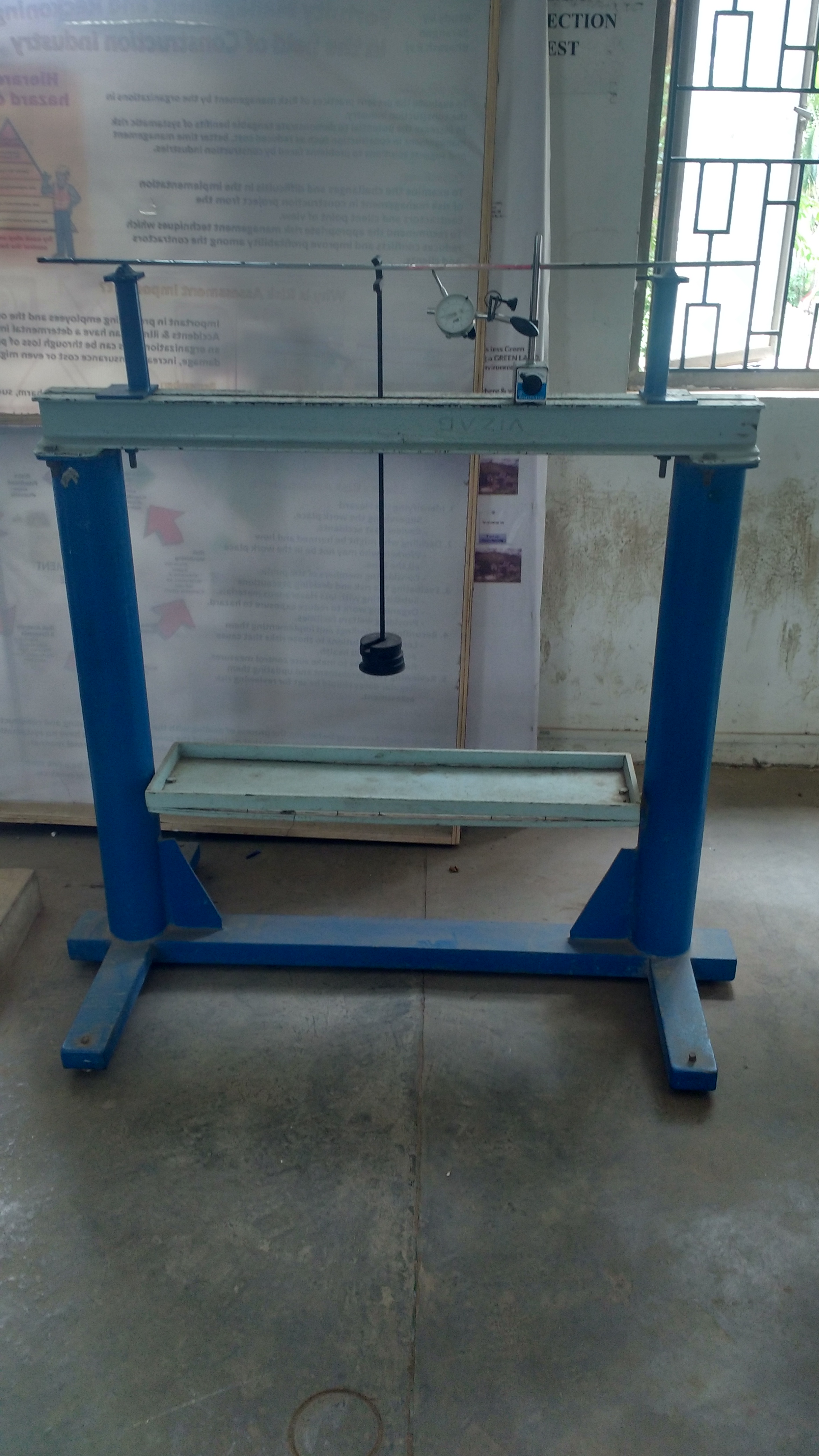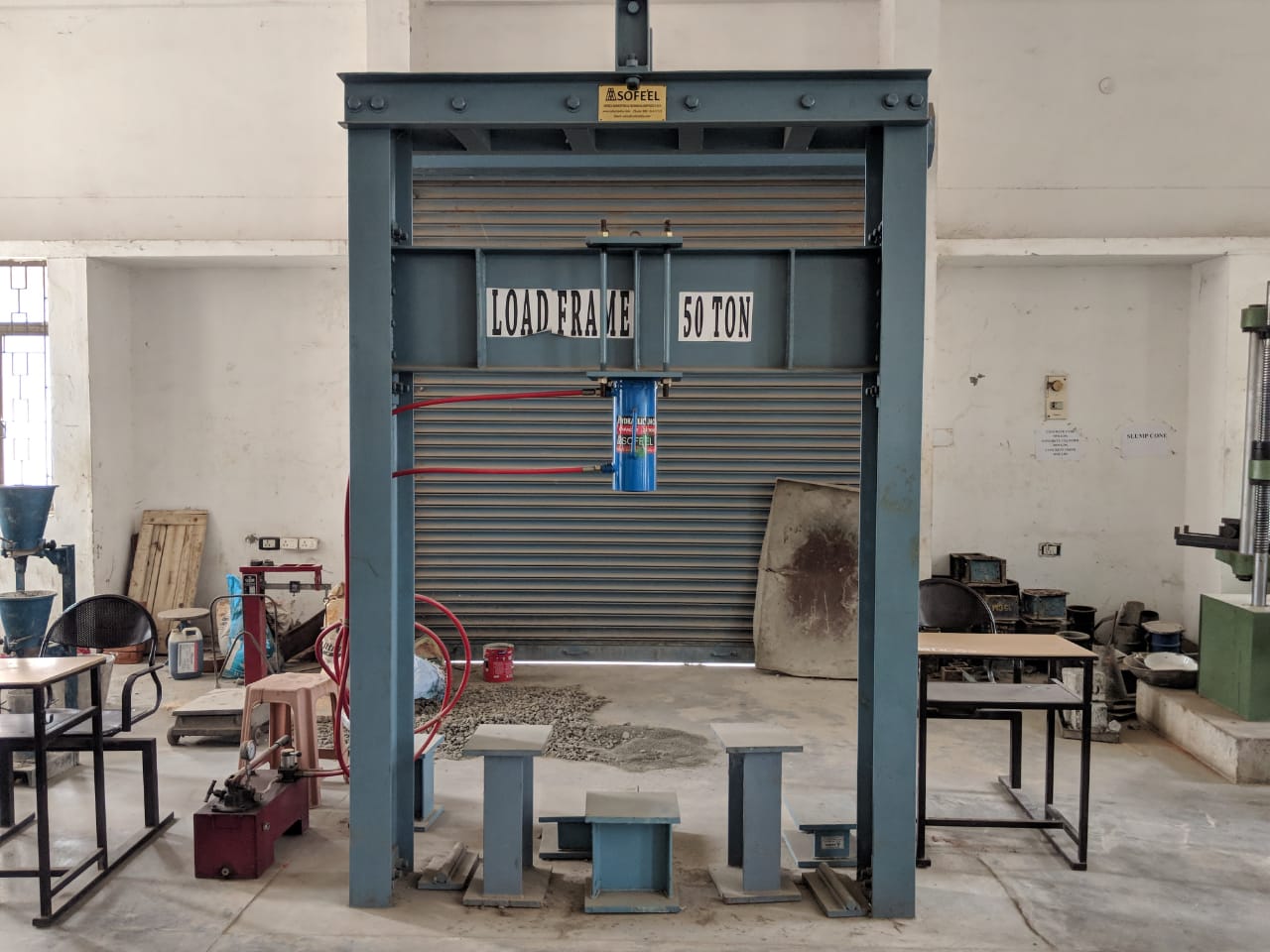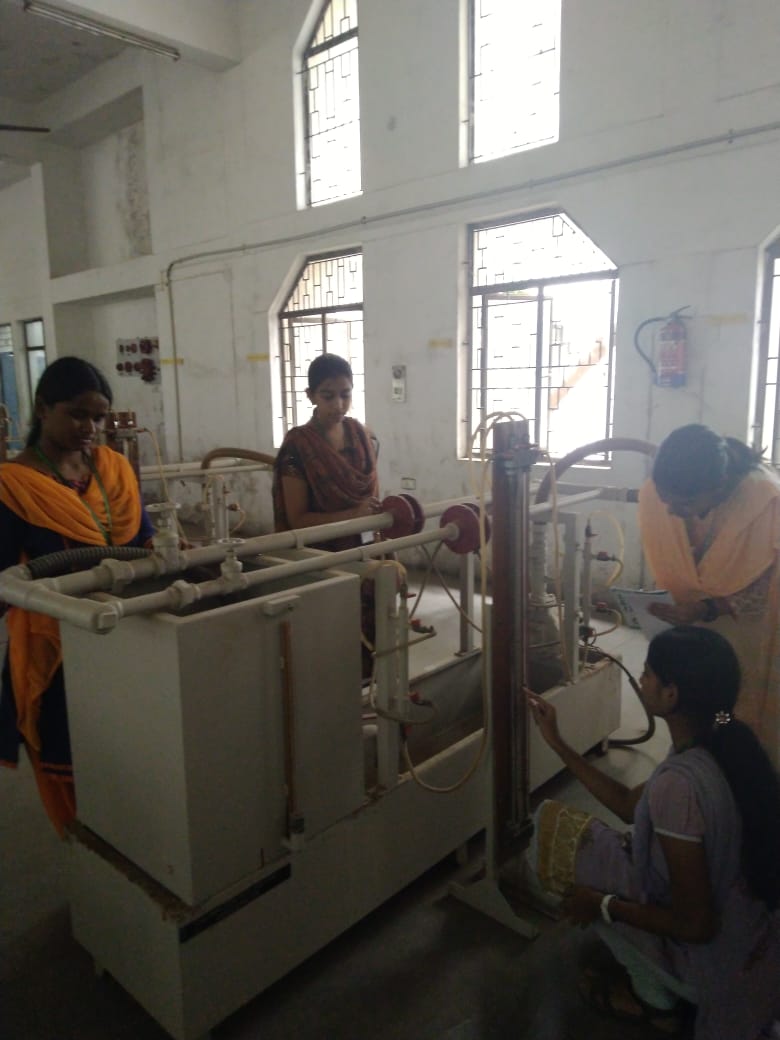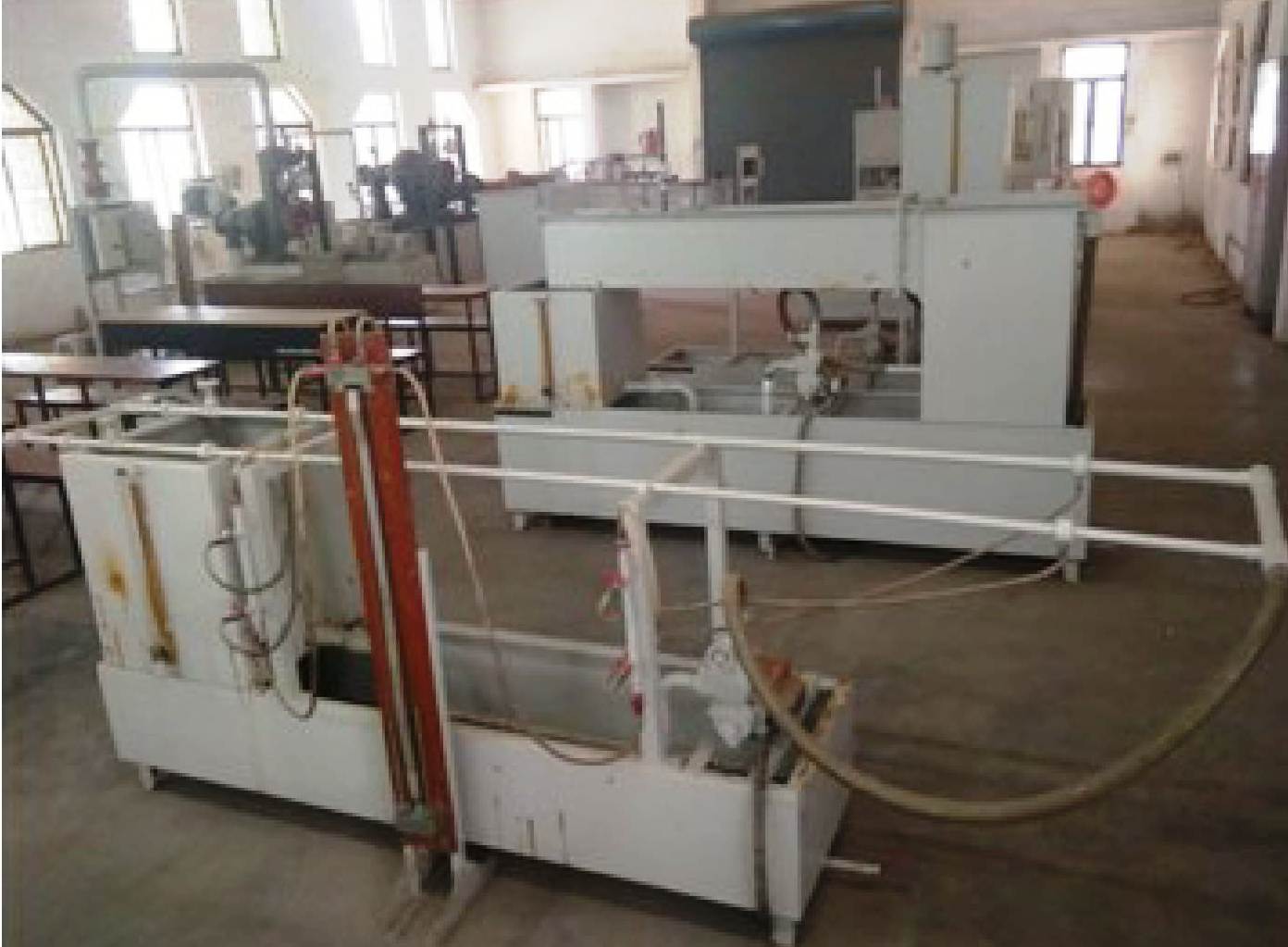 S.NO

NAME OF THE LAB

MAJOR EQUIPMENTS LIST

1.

LAB01-STRENGTH OF MATERIALS LAB

UTM 400kN capacity ,Torsion testing machine, Izod impact testing machine, Hardness testing machine, Beam deflection test apparatus ,Le Chatelier's apparatus, Vicat's apparatus

2.

LAB02-CONSTRUCTION MATERIALS AND ADVANCED CONSTRUCTION ENGINEERING LAB

Slump cone Apparatus, Vee Bee Consistometer, Aggregate impact testing machine, Concrete Mixer Machine, Flow table Apparatus, Vibrator

3.

LAB03-HIGHWAY LAB

CBR Apparatus, Blaines Apparatus ,Los - Angeles abrasion testing machine, Marshall Stability apparatus

4.

LAB 04-SURVEY EQUIPMENTS STORE

Total Station ,Theodolites ,Dumpy level ,Plane table, Pocket stereoscope , Ranging rods, Leveling staff, Cross staff, Chains, Tapes, Arrows, Prismatic Compass ,Surveyor Compass, Hand held GPS

5.

LAB05-HYDRAULICS LAB

Centrifugal pump, Reciprocating Pump, Gear Oil Pump, Jet Pump, Major and Minor Loss, Francis turbine , Kaplan turbine , Pelton wheel, Orifice meter and Venturimeter apparatus, Orifice and Mouth piece testing apparatus

6.

LAB06-COMPUTER LAB

Computer System

7.

LAB07-GEOLOGY LAB

Specimens and Models of Rocks

8.

LAB 08-MICROBIOLOGY LAB

Sterilization chamber, Microscope, Bacteriological Incubator, Weighing Machine, Autoclave

9.

LAB09-PUBLIC HEALTH LAB

PH meter, Turbidimeter, Conductivity meter, UV Spectrophotometer, Jar test apparatus, Crucible, Muffle furnace, Hot air oven, Pipette, Burette, COD analyser, BOD Incubator, Ion selective Electrodes,

Flame Photometer

10.

LAB10-SOIL LAB

Relative Density, Permeability apparatus, Triaxial Shear Apparatus, CBR test, Standard Proctor test apparatus, Sand replacement apparatus, One dimensional consolidation test apparatus, Sieves for particle size distribution analysis & Hydrometer analysis, Vane Shear test, Shrinkage test apparatus

11.

LAB11-ADVANCED COMPUTING TECHNIQUES LAB

Primavera Software, MS Access, MS Project,

QE Pro
DEPARTMENT ASSOCIATIONS:
ICI-INDIAN CONCRETE INSTITUTE
Indian Concrete Institute is one of the leading professional body in India, catering to the professional needs of individuals and organisations involved in Concrete. Being a non-profit Organisation, it is dedicated to the cause of Disseminating Knowledge on Concrete, to Promote Concrete Technology and Construction and to address the Research Needs of Concrete.
Benefits of ICI Students Chapter
Concessional Delegate fee for participation in ICI events, to get updated on the latest technology & practices in Concrete Industry.
ICI Events provide unique opportunity to listen to, and to interact with experts from within the country and abroad.
Access to Job Portal & E-learning Portal
Concessional rates for Publications of ICI.
Support to conduct Training Programmes, Workshops, Conferences, Site Visits etc.
Support in calling professionals in civil engineering for delivering Guest Lectures, on topics of interest.
"ICI-Update" a monthly e-bulletin from ICI, to keep abreast of the happenings in ICI and to know the Forthcoming Events.
Opportunity to participate in ICI conducted competitions like ICI FEST, which is a zonal meet of Students Chapters.
Waiver of entrance fee to become Life Member of ICI, after graduation.
Access to ICI Archives, which is a collection of valuable Technical Papers.
Access to ICI reference library.
The department always stands high with the students' academic record bagging the top positions in the Anna University Examination rank list constantly every year.
| | | | | |
| --- | --- | --- | --- | --- |
| Year of Admission | 2012-13 | 2013-14 | 2014-15 | 2015-16 |
| Year of Completion | 2015-16 | 2016-17 | 2017-18 | 2018-19 |
| No. of Students Admitted | 69 | 72 | 71 | 67 |
| No. of Students Appeared for Exam | 67 | 72 | 71 | 67 |
| No. of Students Successfully Completed in 4 Years | 67 | 69 | 64 | 61 |
| Percentage of Students Successfully Completed in 4 Years | 100 | 95.83 | 90.14 | 91.04 |
BE-CIVIL University Rank Holders
Batch 2015-2019 Academic Year 2018-2019

S.No

Reg.no

Name of the Student

Rank

1

311515103053

Thenmozhi E

3

Batch 2014-2018 Academic Year 2017-2018

S.No

Reg.no

Name of the Student

Rank

1

311514103701

Madhuvanthi N

17

2

311514103051

Subramani N

29

3

311514103025

Krishna Kumar

36

4

311514103038

Rakshana L

39

5

311514103011

Balaji K P

40

6

311514103047

Sonali M

46

Batch 2013-2017 Academic Year 2016-2017

S.No

Reg.no

Name of the Student

Rank

1

311513103037

Sadhana B

13

2

311513103702

Akilandeswari M B

29

3

311513103052

Suhashini L

30

4

311513103013

Deepika Priya M

31

5

311513103304

Muthamil Pandi J

32

6

311513103005

Akshaya S

39

7

311513103028

Malini Preetha M

40

Batch 2012-2016 Academic Year 2015-2016

S.No

Reg.no

Name of the Student

Rank

1

311512103049

Varrshini D R

42

2

311512103015

Gowthami S

43

3

311512103028

Muthu Kumar S

49
M.E. Construction Engineering and Management
University Rank Holders
Batch 2017-2019

S.No

Reg.no

Name of the Student

Rank

1

311517418002

Anantha Krishnan V

1

2

311517418007

Rajaraja Chozhan V E

2

Batch 2016-2018

S.No

Reg.no

Name of the Student

Rank

1

311516418010

Praseetha K

1

2

311516418013

Sarath Kumar M

3

3

311516418012

Sangeetha P

10

4

311516418001

Aswin M

11

Batch 2015-2017

S.No

Reg.no

Name of the Student

Rank

1

311515418017

Sowmiya R

9

2

311515418013

Sathianarayanan V M

15

Batch 2014-2016

S.No

Reg.no

Name of the Student

Rank

1

311514418005

Bhavani J

3

2

311514418006

Brooklynaa B

9

3

311514418012

Rajakumar A C

16
Innovations in Teaching
---
Course Material - Sample
Question Paper - Sample
Question Bank - Sample
Perspective Projection, Free Hand Sketch and Revision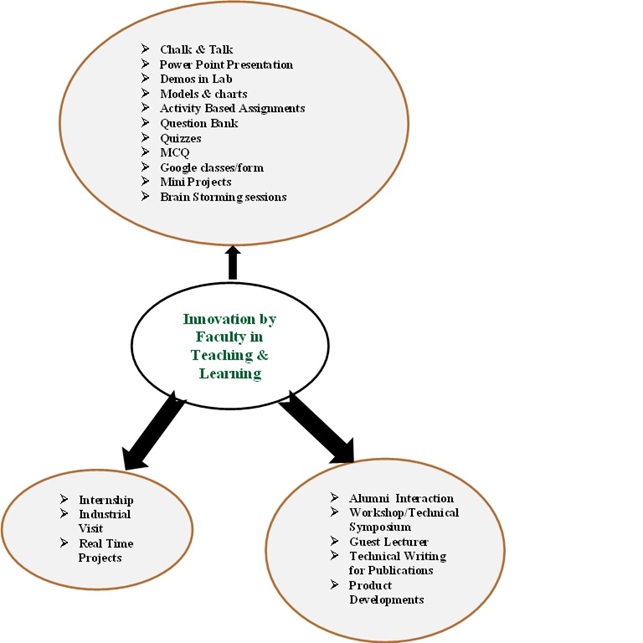 Use of modern teaching aids like LCD projectors are usually employed in classrooms and other student learning environments.
Faculties share Academic study material using digital library
Department conducts Seminar, workshops, expert talks and Industrial visits on every semester
Department has introduced Mini projects every semester in the curriculum
Students are encouraged to participate National and Internal conferences in coordination with Faculty members
Faculty members use digital library and other open source platforms such as NPTEL video lectures to make the subject easy to understand
Faculty members are encouraged to participate in short term courses, staff development programs and workshops on advanced topics to keep pace with the advanced level of knowledge and skills. Over the past years, Faculty members have been participating/ presenting papers in National / International conferences and publish their articles to enrich their knowledge
Faculty utilize department library as well as College main library for reference
Library has state of art digital library, E Learning Centre, Video Conference Room, , Students Discussion rooms, Faculty discussion room, and Books & Reference Section, Circulation Counter, Journals/Magazines and Newspaper Section are made available in the library building
The department conducts Guest Lectures, Seminar, E3 and Symposium to enrich the students' knowledge. The academic activities of the department emphasis on deep understanding of fundamental principles, development of creative ability to handle the challenges of civil engineering and the analytical ability to solve the problems which are interdisciplinary in nature.
The department conducts Guest Lectures, Seminar and Workshops to give exposure for our students on engineering knowledge both in theoretically and practically.
E 3 - Enrichment, Enhancement and Empowerment
The department conducts Enrichment, Enhancement and Empowerment to enrich the student's knowledge.
The academic activities of the department emphasis on deep understanding of fundamental principles, development of creative ability to handle the challenges of civil engineering and the analytical ability to solve the problems which are interdisciplinary in nature.
Technical Symposium
The department conducts Symposium to enrich the student's organizing skill and improve their technical knowledge/ non- technical talents.
The Symposium event was conducted on 19/08/2019 which was organized by our department. Nearly 200 Students from various colleges in and around Chennai were participated in this event.
Various Technical and Non-Technical events were conducted. Some of them are Paper Presentation, Tech Wizard, Bridge Battle, Guess What, 12th Man, CAD Connoisseur, etc.,
The details of events are furnished below:
Events organised
S.No

Events Name

Topic

Date

Resource Person

1

Guest lecture

Guest lecture on applications in steel structure

01-02-2020

Mr.Delli Babu Sekar, senior structural engineer, DEBASE Architects & Engineering Pvt Ltd

2

Guest lecture

Guest lecture on strength of materials

01-02-2020

Mr.Delli Babu Sekar, senior structural engineer, DEBASE Architects & Engineering Pvt Ltd

3

seminar

Technical seminar on "The Human And Technical View"

25/01/2020

Er V.Radhakrishnan Managing Director, Keshthana Infrastructure Pvt Ltd, Chennai,

Er.M.Sarath Kumar

Senior Project Manager, Navins Builders.

Er.Venkataramanarao,DGM

URC Construction pvt Ltd.

4

seminar

Seminar on higher studies opportunities in NEW ZEALAND

21-08-2019

Mr.John Cockburn, International Marketing Director for

5

Guest lecture

Guest lecture on Water Sector In India

30-08-2019

Mr.Girithar, Executive engineer, CWC.

6

seminar

Seminar on Introduction to structural software

22-06-2019

Mr.Prasanth, CEO, CADD GENIUS

7

seminar

Seminar on Introduction to Green Building

14-09-2019

Mr.Baskar, CPWD

8

Guest lecture

Guest lecture on introduction to building Information Modelling

05-09-2019

Mr.Vignesh Balu, Founder&CEO,

LUPITER TECHNOLOGIES

9

ECUBE

ECUBE

08/07/2019- 12/07/2019

Er.G.R.Radhakrishnan- AEE,

Er.M.Sivasubramanian, MD, Shivdev Associates.

Er.Panner Selvam, Deputy Director, CWC,

Er.Prabahar, Project Head, Navin housing pvt ltd,

D.Saisaran-AE,WRD PWD

MR.P.VinayagamoorthY, Design Engineer,CCCL Chennai

Mr.Johndevakumar- AE,WRD PWD

Mr.Srinivasan,CE,CRN Architects

Mrs.Geetha, Engineer Contracts, CCCL Chennai

A.Baskar, AE-CPWD

Er V.Radhakrishnan Managing Director, Keshthana Infrastructure Pvt Ltd, Chennai
Research Paper Publications in Journals by Faculty
Sl.

no

Faculty name

Name of the paper

Journal

Publication details

Year of publication

1

R Arivazhagan

Numerical Modelling of Adyar River

International Journal of Recent Technology and Engineering (IJRTE)

ISSN: 2277-3878, Volume-8 Issue-3

September 2019

2

Dr.V.Balakumar

Piled Raft on Sandy Soil- an Extensive Study- Geotechnical engineering

SEAGS-AGSSEA Geotechnical Engineering Journal of the SEAGS & AGSSEA

Vol. 50 No. 3 September 2019 ISSN 0046-5828

SEPTEMBER

2019

3

Dr.V.Balakumar

Interactive Analysis of Pile/Pile Groups Subjected to Vertical and Lateral Load

International Journal of Engineering and Advanced Technology (IJEAT)

ISSN: 2249 – 8958, Volume-8, Issue-3S

February 2019

4

R Arivazhagan

Influence Of Grain Size And Its Distribution On Hyperbolic Model Parameters On Dry Sand

Journal Of Computational And Theoretical Nanoscience

Volume 15

Number 3

PP 995-1003 (9)

August

2018

5

M.Malini Gayathri

Biogas generation from domestic waste along with the algal sequestration

International Journal Of Innovative Research In Science, Engineering And Technology

ISSN (online) : 2319-8753

ISSN ( print) : 2347-6710

February 2018

6

Dr.V.Balakumar

A Critical and comparative study on 2D and 3D Analyses of Piled raft Foundations on Sand

Geotechnical engineering Journal of SEAGS-AGSSEA

vol.49 ,NO 1 March 2018. ISBN – 0046 – 5828

March 2018

7

Saravanan S

A Study of Role of Building Information Modeling in Life Cycle Based integrated project Integrated Project Delivery Process

International Research Journal of Engineering and Technology (IRJET)

e-ISSN: 2395 -0056

Volume: 03 Issue: 04 | Apr-2016 www.irjet.net p-ISSN: 2395-0072

April

2016
Research Paper Publications in Conferences by Faculty
Sl.

no

Faculty name

Name of the paper

Conferences

Year of publication

1

Dr.P.K Suresh

Dredging And Siltation Study In The Gulf Of Khambhat

5th International Conference in Ocean Engineering (ICOE 2019)

AUGUST 2019

2

Dr.P.K Suresh

Remedial Measures To Combat Sea Erosion Along West Coast Of India

5th International Conference in Ocean Engineering (ICOE 2019)

JULY 2019

3

Dr.P.K Suresh

Studies On Stability Of Seawalls Of Karnataka Coast

INCHOE- 2018, Indian Society for Hydraulics and Central Water & Power Research station

AUGUST 2018

4

Dr.V.Balakumar

Effect of Intermediary weak layer on the behaviour of piled raft

20th SEAGC-3RD AGSSEA Conference Jakartha-Indonesia 2018

SEPTEMBER

2018

5

Dr.V.Balakumar

Effect of piles on the design of the raft foundation

Indian Geo Technical Conference -2018-Bangalore India

DECEMBER 2018

6

Dr.P.K Suresh

Meandering studies on river Vellar in Tamilnadu

NFiCE2018

, IIT Bombay

Department of ocean engineering, IIT Bombay

OCTOBER

2018

7

Dr.P.K Suresh

Migration Of Chilika Lake Mouth

E-proceedings of the 37th IAHR World Congress

Organized by world congress, Malaysia

AUGUST

2017

8

Dr.P.K Suresh

River Training –A Case Study

3rd International Conference- IMMM 2017

Design Research and Construction support Water Resources Organization, PWD

SEPTEMBER

2017

9

Dr.V.Balakumar

Piles and Piled Raft foundations Analyses for Surfers Paradise , GoldCoast Sub-Soil Conditions

19th International Conference on Soil Mechanics and Geotechnical Engineering, Seoul

OCTOBER

2017

10

Dr.V.Balakumar

An Analytical Study on The Type of Study & Software on the Prediction of Behaviour of Piled Raft on Sand

19th International Conference on Soil Mechanics and Geotechnical Engineering, Seoul

SEPTEMBER

2017

11

Dr.L.Ramajeyam

Complexity Assessment of Modular Formwork Construction using Design Structure Matrix (DSM)

Proceedings of International Conference on Advanced in Industrial Engineering Applications(ICAIEA2016) Conference by Anna University

JULY 2016

12

Dr.P.K Suresh

"Sedimentation issues of historical Cauvery irrigation system in India "P.K.Suresh,

International conference on Historical Water Projects and Traditional Water Technologies in the AsiaPacific Region

SEPTEMBER

2016

13

Dr.P.K Suresh

Multi Sectoral and Multi Stakeholder Approach in Water management

20th International Conference on Hydraulics, Water Resources and River Engineering

DECEMBER

2015

14

Dr.P.K Suresh

Protection measures for Railway track along a River in Tamilnadu

20th International Conference on Hydraulics, Water Resources and River Engineering

DECEMBER

2015

15

Dr.P.K Suresh

Water management through participatory approach – A case study on Multi Sectoral and Multi Stakeholder Approach in Water management

20th International Conference on Hydraulics, Water Resources and River Engineering

DECEMBER

2015
DISTINGUISHED ALUMNI
S. No

NAME OF THE STUDENT

BATCH

POSITION

1

Mr. M. Govindharaj

2011-2015

Technical Assistant (Civil engineering), Human Space Flight Center (ISRO new center), Bangalore

2

Bhushan Raj S

2009-2013

Assistant Manager, L & T Construction

3

Praveen Kumar. V

2009-2013

Assistant Divisional Engineer, Sullurupeta, Chennai division Southern Railway.

4

Paneer Selvam. L

2007-2011

Deputy Director, Central Water Commission

Ministry of Jal Shakti

5

Nithya.E

2006-2010

Indian Navy

6

M. Praveena

2006-2010

Indian Engineering Service (3rd rank), Indian Railways

7

Dr.K.Ramesh Kannan

2003-2007


Assistant Professor, IITM, BSB:119, Geotechnical Engineering Division

8

Er. N. Srinivasan

2003-2007

Assistant Engineer, Greater Chennai Corporation

9

Girish.R

2003-2007

Indian Engineering Service

10

Sivaramkrishnan

2002-2006

Senior Engineer, Aracdis India consulting pvt ltd

11

Lion Er E. Shanmuga Vinayagam M.E

2002-2006

Proprietor, Compass groups
ALUMINI TESTIMONIALS:
MSEC has everything that a student possibly wants. It has good credibility in terms of placements. Subject expertise faculties are what make engineering in MSEC a worthy one. Well established labs are provided for practical understanding of course matter especially for civil. MSEC not only focuses on creating bookworms, instead it focuses on creating a holistic engineer. Fun and Festivals are also involved, because this is the age to enjoy!. Location is also comfortable for students since it has multiple transportation availability nearby. Overall, a good college which would be a stepping stone for your career.
Pavithra L
Batch 2011-15
A very prominent phase of my life was chiseled at MSEC. It's strong and determining aura always induced in me a renewed vitality. Strongly refined, delicately molded and intricately designed, I stand proud, bearing the indelible imprint of MSEC.
EUNICE PREMANJALI N (2010-2014)
Civil Engineer cum Urban & Regional Planner.
I am sandra marianne anand and it gives me great pleasure to talk about my home for four years - meenakshi sundararajan engineering college. As an alumnus of the civil engineering department , the environment not only helped me achieve great heights academically but also fostered a nurturing ambience with professors who were superlative guides. Discipline was enforced through daily activities the value of which was known once I graduated. Friendship and camaraderie thrived in our classrooms and studying was fun. My leadership skills came to the fore with Wafes 2014 symposium where I Coordinated the whole event and also learnt to work as a part of a team , which helps me even today. Being a basketball player it helped me mingle with both junior and senior students at college and this also taught me that life is just not about studying, as the college gave me opportunities to excel in other extra curricular activities too. As out college is located in the centre , my residence was the favourite haunt of my friends to catch up with college work.
Sandra Marianne Anand,
2nd year graduate student,
Southern Methodist University, USA
Batch-2017



All the nurturing my professors did back at MSEC, is what I am today, learning to stand independently and thriving to achieve my future goals. My college gave me beautiful memories and am proud to have been part of this great institution and my alma mater will always remain close to my heart.
Bupesh
Geotechnical Engineer
Oman

MSEC is a brand that would add value to your profile. The assignments and number of class tests will be tough, yet will help you learn. The e-cube, symposiums, one day seminars and workshops will help you develop your soft skills. Overall, these exposures will aid your development. Grab the opportunities and make use of the platform.
Sharmila Rajasekaranan
University of Sinagopre
MSEC has helped to develop several world-class engineers. The molding of each generation of engineers is seen personally by beloved staff of MSEC. The students of MSEC have streamlined into government organizations, PSU's and several reputed design MNC's due to their persistent thirst of knowledge and passion. They are trained in a manner to readily handle the corporate and fast growing technical world.
Shivaditya (Batch 2009-2013)
Geotechnical Engineer,
COWI
I graduated in 2014 with a Bachelor of Engineering in Civil Engineering from MSEC. I had friends at other local colleges bragging about how easy college was. I was the opposite. I complained about how hard college was. But MSEC pushed me to the edge, towards my potential, and then asked me to turn around, go back, and do it again. Four Years, later I thank "MSEC" & especially "The Department of Civil Engineering for preparing me with the ironclad determination that they knew would be needed for my successful, fun, and amazing journey in my very progressive career in Construction. The professors really focused on subjects that prepared us to face the challenging Industry which is construction, which I'm still grateful to have. MSEC has helped me advance in my career, which lead me to pursue Master's degree in Construction Management in one of the Top University for construction degrees in USA.I currently work in one of the top Multinational Construction Company In USA. I would recommend MSEC to anyone looking to have a successful career and advance their careers in Construction.
Subiksha Ravichander
Preconstruction Estimator
DPR Construction
USA
MSEC has nutured me and made me what I am today. It made me more disciplined and helped me to grow not only professionally but holistically as a good human being. MSEC has excellent teaching faculty with well equipped labs, ventilated classrooms, library etc. The right atmosphere is created to the students by the teachers in the classroom to mould the personality of each and every student. MSEC not only impart knowledge but also instills life skills in us to make us socially responsible citizens. In this competitive and expensive era, the objective of MSEC is imparting quality education at affordable cost which is really praise worthy. I am really fortunate to study in this prestigious institution which provides a perfect platform to students to prove themselves. I thank all my teachers and MSEC who has helped me to reach this position.
Divya.P
Senior Design Engineer
L&T Construction
Batch: 2011-2015
Civil Engineering
MSEC provided a high standard of education with which we are able to face the challenges in this era of technology and innovations. The classroom environment they created made us learn peacefully and effectively. The dedicated building for Civil department highly equipped with source of practical knowledge, the laboratories made us apply and understand the content in syllabi. We praise, thank and appreciate the faculty team who were dedicated more than themselves in teaching. Their approach in teaching out of books enabled us to outstand in all objectives in the field. Through events - E-cube and Symposium they made us understand the perspectives of different people, innovations and proved our inner potential wisely.Along with the knowledge, they never relinquished to impart moral values in our hearts. Which still blooms in our spirit and it will in the future. The life what we live now proves the very first motivation given by the halls of ivy that the four year education will take care of forty years of life. We wish our alma mater to continue creating more young buds intelligent and a good citizen.
Hari Hara Sudhan (2011-2015 batch)
Quantity Surveyor - Civil
Reem Capital Contracting LLC
Muscat - Sultanate of Oman
Research:
It's about people and their lives, everywhere. We challenge the status quo with our research and educational programs, advance the frontiers of knowledge, expand the limit of the possible, and innovate. Using science and engineering, we solve some of our time's toughest challenges through the creation of systems with large-scale tangible impact at the nexus of environment, infrastructure and people.
We develop and use pioneering approaches that range from basic scientific principles to complex engineering design, at scales from the nano to the global.
The positioning of civil department is defined by a set of strategic challenge areas (addressing major societal challenges) and academic fields of interest. The academic fields of interest reflect the intellectual disciplines of our faculty, their academic background, and teaching interests (and is reflected in their contributions to our academic programs for undergraduate and graduate studies ;)The academic fields of interests define how Civil faculty and students contribute to the strategic challenge areas. The strategic challenge areas reflect a set of five broad areas that are research priorities for :
Ecological Systems
Resources and Sustainability
Structures and Design
Urban Systems
Construction Engineering & Management
The department is equipped with various equipment's to undertake research and consultancy activities.
The testing activities includes
Cube compressive testing
Tensile test of steel rod
Tests on Bricks, Paver blocks, tiles, etc The consultancy activities include
Mix design of concrete Design of Buildings:
Stability checking of buildings and towers
Design of liquid retaining structures, etc
Industrial effluent treatment
Municipal sewage treatment
Solid waste management
Water quality monitoring-Construction Purpose
Air quality Monitoring
GPS Surveying
| | | | | | |
| --- | --- | --- | --- | --- | --- |
| YEAR | PROJECT TITLE | FUNDING AGENCY | AMOUNT | DURATION | FACULTY INVOLVED |
| 2018-2019 | Construction of college hostel for Harijan Sevak Sangh | Harijan Sevak sangh | 292500.00 | 2015- present | Dr.L.Ramajeyam |
| 2018-2019 | Coastal protection project on mandakkaputhur coast, kanyakumari | Department of Ocean engineering IIT Madras | 1500.00 | May 2019 – June 2019 | Dr.P.K.Suresh |
| 2018-2019 | Report for flood flood estimation and hydraulic functions of barrage along kollidam in mukkombu, trichy | Department of Ocean engineering IIT Madras | 1100.00 | July 2018 – September 2018 | Dr.P.K.Suresh |
| 2018-2019 | Preparation of master plan for coastal protection project for cuddalore district | Department of Ocean engineering IIT Madras | 1000.00 | July 2018-August 2018 | Dr.P.K.Suresh |
| 2018-2019 | Field visit to IHH poondi river for river training works at toludur anicut in velar basin | Department of Ocean engineering IIT Madras | 500.00 | August 2018- September 2018 | Dr.P.K.Suresh |
| 2018-2019 | Preparation of report for ongoing coastal protection project in kadiapattinam village | Department of Ocean engineering IIT Madras | 1500.00 | July 2018 – September 2018 | Dr.P.K.Suresh |
| 2018-2019 | Preparation report for break water design at udangudi in tuticorin | Department of Ocean engineering IIT Madras | 2000.00 | December 2018- July 2019 | Dr.P.K.Suresh |
| 2016-2017 | Study of shore line evolution in the presence of groin along the coast of Mandakadu in Kanyakumari | Department of Ocean engineering IIT Madras | 17175.00 | January 2016- June 2016 | Dr.P.K.Suresh |
| 2016-2017 | Field investigation for Kariyakoil dam visit | Ocean engineering consultancy services | 3000.00 | April 2016- June 2016 | Dr.P.K.Suresh |
Every year students participate in various sports activities like cricket, basket ball, Foot ball, carrom, badminton etc within and outside premises, one of the salient features of which is students of civil engineering department won basket ball match in Anna University.
2018-2019

Event

Name of the student

Date

Venue

Cricket

Kathiravan . E

03/09/2018

Licet College, Nungambakkam, Chennai

Yuvaragul .A

Ajith .A

Navinvishwa .S.S

Hari Prasad .K

DheenaDhayalan .M

Mohanadunish khan

Khokho

Deepak .T

04/09/2018

Licet College, Nungambakkam, Chennai

ManigandalLoganathan

Harish .S

Kabaddi

Surya .D

06/09/2018

SRR JEPPIAAR Chairman

Bharath Raj .K

Volley Ball

Ginu Xavier .A

08/09/2018

Mohamed Sadhak College, Siruseri

Raja .S

Gokulakrishnan .R

Foot Ball

Manoj .S

14/09/2018

JEPPIAAR Engineering College

Saravan Narayan .M

Chess

Anandavali

22/09/2018

Meenakshi Sundararajan Engineering College

Badminton

Harshawardhini .P

03/10/2018

Loyola ICAM

Athletics

Deepak .T

10/10/2018

SSN College of Engineering

Pradhap

Japhia

2017-2018

Cricket

Yuwa Raul

04/08/2017

SSN / LICET

Kathir

Ajith

Navin

Kabaddi

Surya .D

15/09/2017

Mohamed Sadhak College, Siruseri

Bharath raj .K

Mahendran .C

Foot Ball

Kesavan

11/10/2017

JEPPIAAR Engineering College

Issac

Karthi

Manoj
Faculty
---
S.No

Name of the Faculty

Qualification

Designation

Areas of Interests

1

Dr. P.K. Suresh

M.S., Ph.D

Professor

Coastal zone management

2

Dr. L. Ramajeyam

M.E., Ph.D

Dean - PG Studies, HOD & Professor

Structural engineering,

Design of Reinforced

concrete structures,

Resource management

3

Mrs. U. Nirmalambal

M.E.

Associate Professor

Structural engineering,

Strength of materials,

Prefabricated structures,

Prestressed Concrete,

Foundation Engineering, Earthquake Engineering

4

Dr. R. Arivazhagan

M.Tech., Ph.D., AMIE(I)., AMIE(Lon)., B.Sc

Associate Professor

Soil dynamics and coastal

zone management

5

Mrs. G. Anbu Neema

M.E

Assistant Professor

Structural engineering ,

Strength of materials

6

Mrs. M. Malini Gayathri

M.E (PhD)

Assistant Professor

Environmental Engineering

7

Mrs. K. Nithya

M.E

Assistant Professor

Hydrology and water resources engineering

8

Mrs. N.S. Anwaya

M.Tech

Assistant Professor

Structural engineering,

Prestressed concrete

9

Mrs. T.P. Kavitha Selvam

M.E

Assistant Professor

Construction planning and

Scheduling, Construction

materials

10

Mr. S. Saravanan

M.E

Assistant Professor

Building Information Modeling (BIM), Construction planning and

Scheduling, Construction

materials

11

Mrs. N. Sivaranjani

M.E

Assistant Professor

Construction planning and

Scheduling, Resource

management

12

Mrs. R. Gowri

M.E

Assistant Professor

Remote sensing, Estimation

and quantity Surveying,

Hydraulics, Geology

13

Mrs. P. Saranya


M.E

Assistant Professor

Structural engineering,

Design of reinforced concrete

and masonry structures,

Transportation engineering, concrete technology

14

Mr. N. Ravikumar

M.E

Assistant Professor

Waste water treatment technology, Surveying, Impacts of Global warming on water pollution

15

Ms. M.S. Jayalakshmi


M.E

Assistant Professor

Irrigation, Water resources

Engineering, Fluid mechanics

16

Mr. G.Amirtha Gokul

M.E

Assistant Professor

Structural engineering, concrete technology, Repair Structures

17

Dr. T. Eswary Devi

M.E., Ph.D

Assistant Professor

Environmental Management

18

Dr. M. Ponni

M.E., Ph.D

Assistant Professor

Structural engineering, Construction Engineering and Management

19

Mr.P. Siva Kumar

M.E

Assistant Professor

Structural engineering

20

Mr.M.Ashwin

M.E

Assistant Professor

Construction Engineering and Management
2018-2019

Event

Name of the student

Date

Venue

Cricket

Kathiravan . E

03/09/2018

Licet College, Nungambakkam, Chennai

Yuvaragul .A

Ajith .A

Navinvishwa .S.S

Hari Prasad .K

DheenaDhayalan .M

Mohanadunish khan

Khokho

Deepak .T

04/09/2018

Licet College, Nungambakkam, Chennai

ManigandalLoganathan

Harish .S

Kabaddi

Surya .D

06/09/2018

SRR JEPPIAAR Chairman

Bharath Raj .K

Volley Ball

Ginu Xavier .A

08/09/2018

Mohamed Sadhak College, Siruseri

Raja .S

Gokulakrishnan .R

Foot Ball

Manoj .S

14/09/2018

JEPPIAAR Engineering College

Saravan Narayan .M

Chess

Anandavali

22/09/2018

Meenakshi Sundararajan Engineering College

Badminton

Harshawardhini .P

03/10/2018

Loyola ICAM

Athletics

Deepak .T

10/10/2018

SSN College of Engineering

Pradhap

Japhia

2017-2018

Cricket

Yuwa Raul

04/08/2017

SSN / LICET

Kathir

Ajith

Navin

Kabaddi

Surya .D

15/09/2017

Mohamed Sadhak College, Siruseri

Bharath raj .K

Mahendran .C

Foot Ball

Kesavan

11/10/2017

JEPPIAAR Engineering College

Issac

Karthi

Manoj