About the department
We are very pride to be one among the department in Meenakshi Sundararajan Engineering College. The department conducts conferences and seminars to enrich the students knowledge. The department of Civil Engineering was established in the year 2002. It has a separate block equipped with all facilities and labs such as Soil Mechanics Lab, Fluid Mechanics Lab, Survey lab, Concrete Technology Lab, Geology Lab, PG Computer Lab and also a CADD Lab with a spacious drawing hall. Civil Department comprises of Bachelor of Engineering course in Civil Engineering and Master of Engineering course in Construction Engineering and Management. The department has a separate ICI (Indian Concrete Institute) students chapter and has a strong association with PWD, Highway Department, TWAD, SERC, CMRL, Chennai Port Trust, Metro Water, L&T, Utracon Structural Systems, and Langdonseah. Civil department conducts various technical seminars, conferences, workshops and faculty development programme at regular intervals apart from academic curriculum to make both students and staffs updated with latest research areas and trends in the civil engineering field. As a part of this continuing trend, this faculty programme is implemented to enrich the teachers with skill and knowledge, which in turn is used to cultivate and nurture research attitude among the students.
Infrastructure:
The department of civil engineering was incepted way back .This department offers undergraduate programs. The department also offers ME in Construction engineering and management. There are a number of technical specialties within the sphere of Civil Engineering for students to pursue their studies. The various fields of Civil Engineering specialization include Structural Engineering, Geotechnical Engineering, Environmental Engineering, Water resources Engineering, Irrigation Management, Earthquake Engineering, Remote Sensing and GIS, Construction Management & Technology and Coastal Engineering. For researchers and students to pursue their realm of specialization, we have advanced and well equipped laboratories for gaining their technical knowledge and quenching their thirst on research activities.

Environmental Engineering Laboratory
This laboratory has been established in the Department of Civil Engineering to support Teaching, Research and Consultancy activities and to develop technical solutions to various Environmental issues in a sustainable manner to safeguard the ecosystem. This laboratory is equipped with sophisticated instruments like UV Spectrophotometer, Flue Gas analyzer and High Volume Sampler to analyse the Physical, Chemical and Biological characteristics of Water, Wastewater and Air. This laboratory also has facilities to determine the concentration of heavy metals in ppb levels and the calorific value of solid and liquid.
Computer Laboratory
The Computer laboratory of Civil Engineering Department has highly sophisticated server and personal computer systems of Intel Core i7 processors and all other hardware and software accessories. The laboratory is equipped with softwares such as STAAD PRO Vi8, CADD ,Detailing Software for drawing, detailing, modeling and analysis and design of Civil Engineering structures. The total number of computers available in the laboratory is forty. Well-equipped furniture, air-conditioning system, multimedia projectors, LAN and broadband internet facility are available. The laboratory aims at excel in the latest trends and developments in the Civil Engineering with the help of the computation technology. The structural design consultancy works are periodically undertaken with help of the laboratory.
Strength of materials laboratory
This lab has an impressive arrangement of imported machines mostly from Switzerland, UK, Germany and USA in addition to Indian machines. It is the best and biggest kind of laboratory of this kind in the south of Tamilnadu. This laboratory is well equipped to offer an excellent practical training to the students.
Concrete laboratory
In this laboratory facilities are available for students to have awareness on quality, consistency and setting time of cement; quality and grading of fine and course aggregates; quality and strength of tiles, etc., and on their properties including mix designs.
Soil testing laboratory
The quality of the soil on your site plays a key role in your construction projects. As a result, you need to identify the characteristics of the soil to determine its ability to support your structure. Soil testing enables you to assess the suitability of the soil, providing you with vital data for informed decision making and planning.
Geo-technical laboratory
This laboratory provides strong foundation to the students in soil investigations like compaction, shearing strength, stress distribution, permeability, particle size distribution etc.,
Corrosion Laboratory
Corrosion Engineering is the application of science and art to prevent or control corrosion damage in a safe and economical manner. This laboratory is established for conducting experiments on corrosion and durability performance of concrete and steel. The primary activities include experimental studies on model under various environmental conditions. This laboratory serves a wide spectrum of activities covering those related to teaching, research and consultancy activities.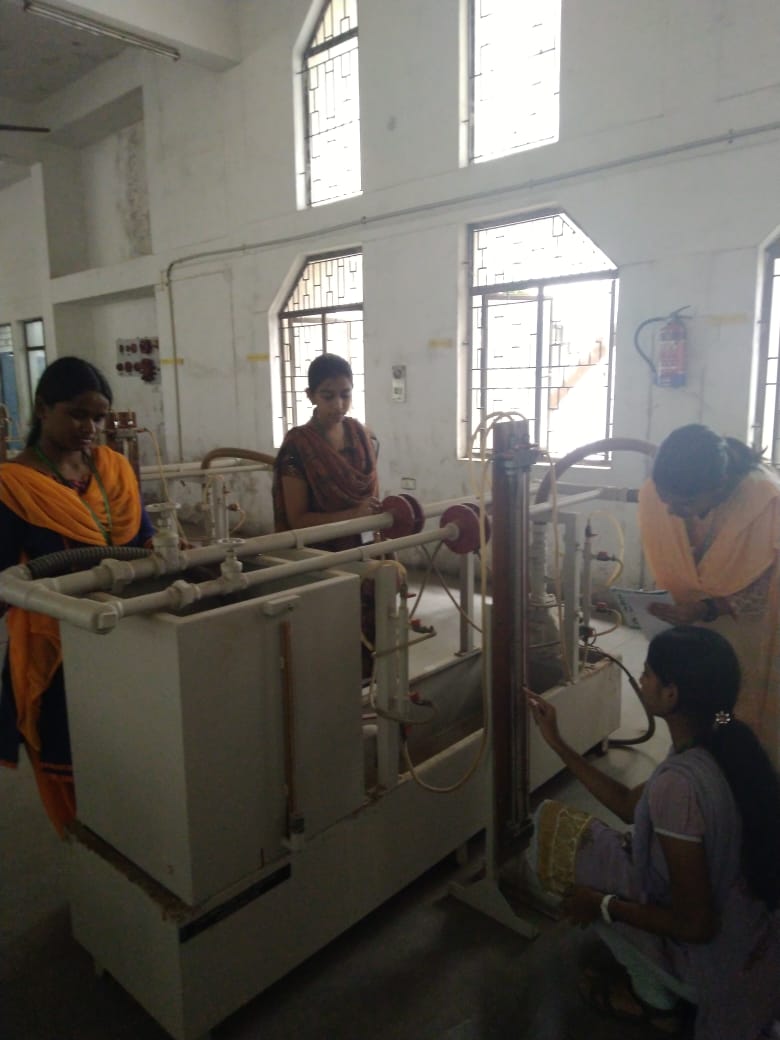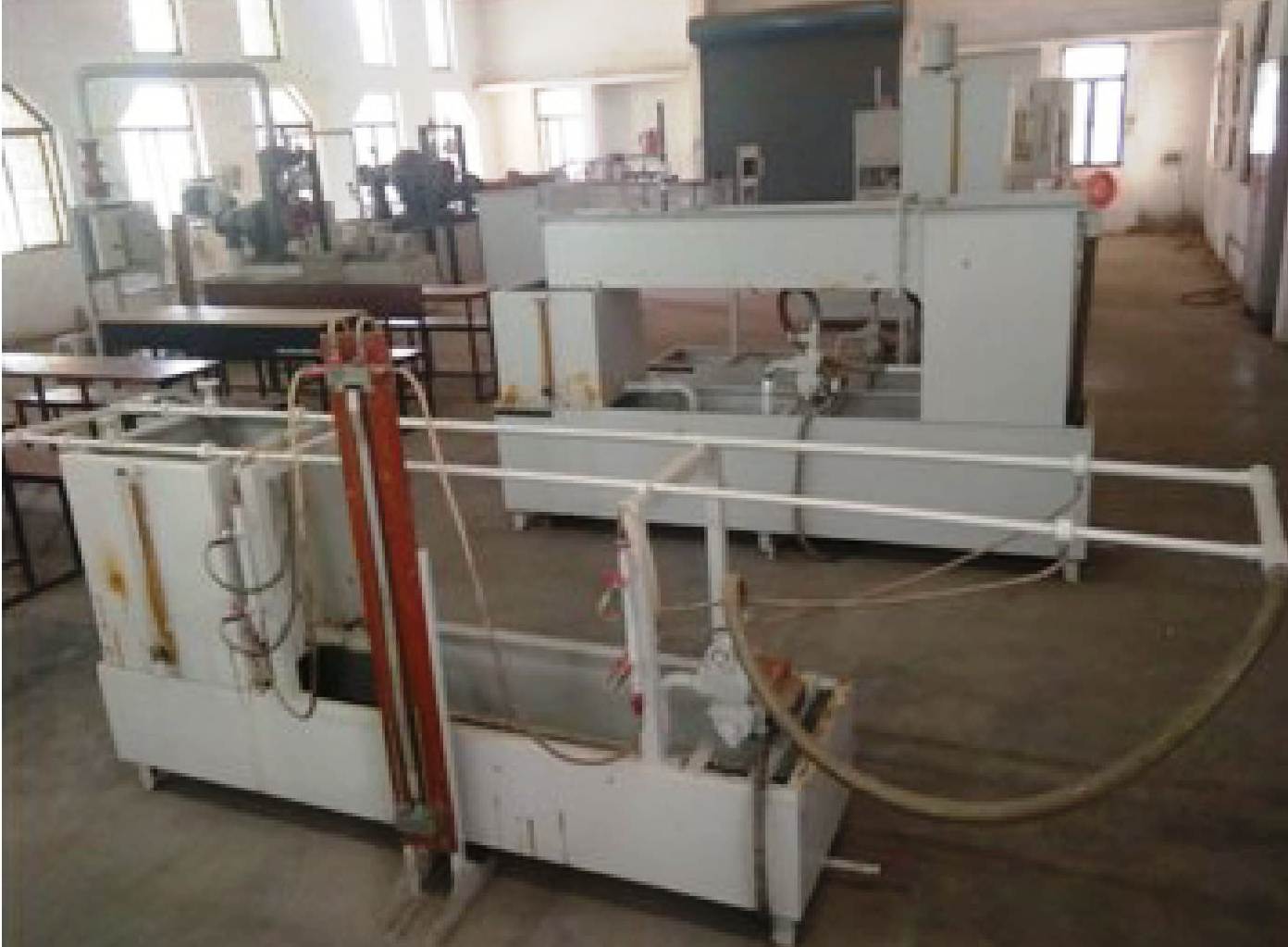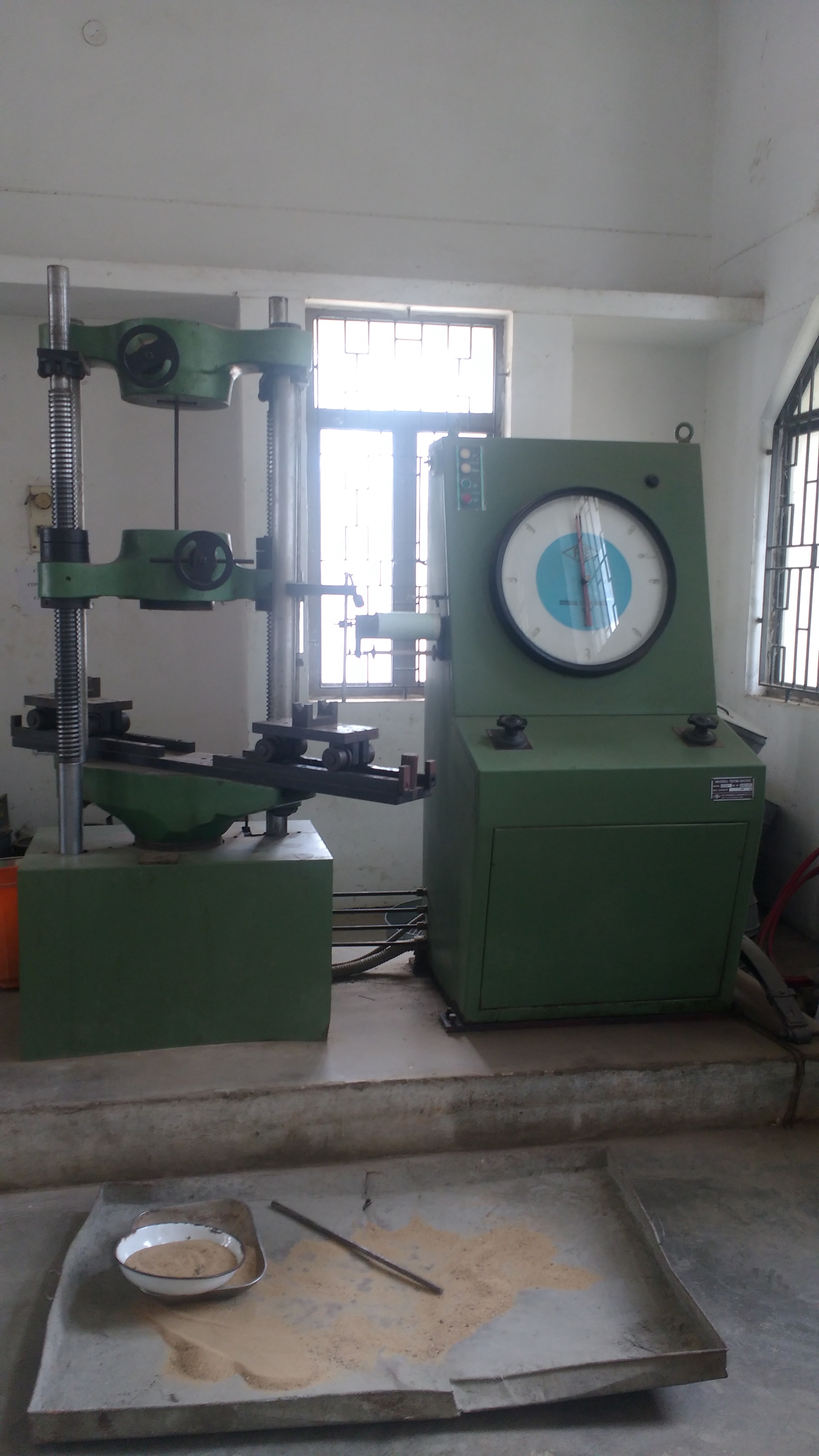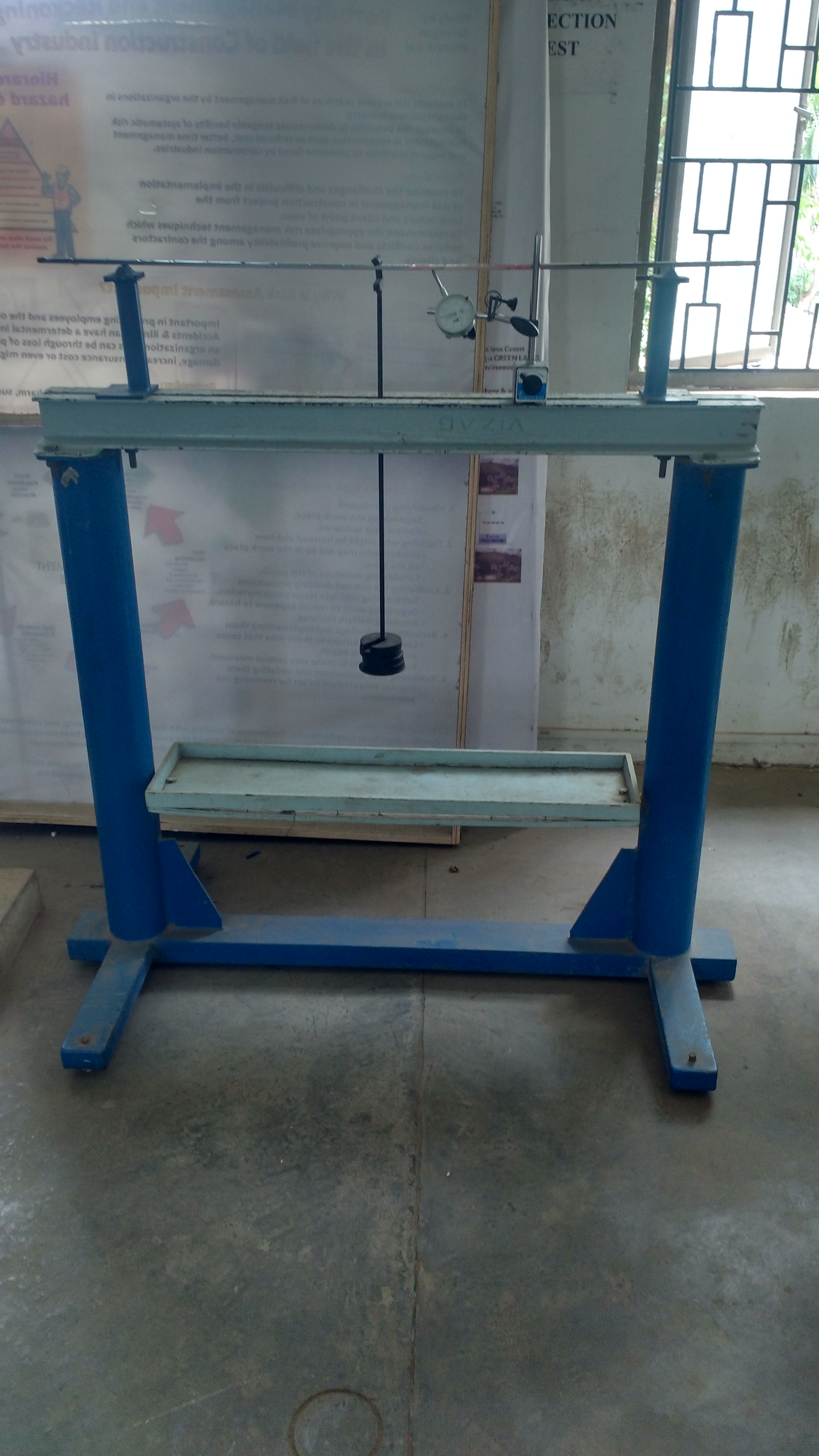 DEPARTMENT ASSOCIATIONS:
ICI-INDIAN CONCRETE INSTITUTE
Indian Concrete Institute is one of the leading professional bodies in India, catering to the professional needs of individuals and organisations involved in Concrete. Being a non-profit Organisation, it is dedicated to the cause of Disseminating Knowledge on Concrete, to Promote Concrete Technology and Construction and to address the Research Needs of Concrete.
Benefits of ICI Students Chapter
Concessional Delegate fee for participation in ICI events, to get updated on the latest technology & practices in Concrete Industry.
ICI Events provide unique opportunity to listen to, and to interact with experts from within the country and abroad.
Access to Job Portal & E-learning Portal
Concessional rates for Publications of ICI.
Support to conduct Training Programmes, Workshops, Conferences, Site Visits etc.
Support in calling professionals in civil engineering for delivering Guest Lectures, on topics of interest.
"ICI-Update" a monthly e-bulletin from ICI, to keep abreast of the happenings in ICI and to know the Forthcoming Events.
Opportunity to participate in ICI conducted competitions like ICI FEST, which is a zonal meet of Students Chapters.
Waiver of entrance fee to become Life Member of ICI, after graduation.
Access to ICI Archives, which is a collection of valuable Technical Papers.
Access to ICI reference library.
The department always stands high with the students' academic record bagging the top positions in the Anna University Examination rank list constantly every year.
The UG rank list for the academic year April /May 2018 Examinations
| | | | | |
| --- | --- | --- | --- | --- |
| S.No | Student name | CGPA | CLASS | RANK |
| 1 | MADHUVANTHI N | 8.99 | FWD | 17 |
| 2 | SUBRAMANI N | 8.66 | FWD | 29 |
| 3 | KRISHNA KUMAR | 8.77 | FWD | 36 |
| 4 | RAKSHANA L | 8.74 | FWD | 39 |
| 5 | BALAJI KP | 8.73 | FWD | 40 |
| 6 | SONALI M | 8.67 | FWD | 46 |
The PG (Construction Engineering And Management) rank list for the academic year April /May 2018 Examinations
| | | | | |
| --- | --- | --- | --- | --- |
| S.no | Student name | CGPA | CLASS | RANK |
| 1 | PRASEETHA K | 9.46 | FWD | 1 |
| 2 | SARATH KUMAR M | 9.21 | FWD | 3 |
| 3 | SANGEETHA P | 8.94 | FWD | 10 |
| 4 | ASHWIN M | 8.93 | FWD | 11 |
We have achieved 6 university ranks in 2013-2017 batch.
| | | | | |
| --- | --- | --- | --- | --- |
| Sl.no | Student name | CGPA | CLASS | RANK |
| 1 | SADHANA B | 9.03 | FWD | 13 |
| 2 | AKILANDESWARI M B | 8.86 | FWD | 29 |
| 3 | SUHASHINI L | 8.85 | FWD | 30 |
| 4 | DEEPIKA PRIYA M | 8.84 | FWD | 31 |
| 4 | MUTHAMIL PANDI J | 8.83 | FWD | 32 |
| 5 | AKSHAYA S | 8.75 | FWD | 39 |
| 6 | MALINI PREETHA M | 8.74 | FWD | 40 |
Placement :
Training and Placement is to guide students to choose right career and to give knowledge, skill, and aptitude and meet the manpower requirements of the Industry. The main objective of this cell is to create and transfer knowledge for the welfare of the society. In addition to providing placement support to the students in the prestigious organizations and industries, We also facilitate training of our students by having collaboration with different placement training institutes during their third year of academic. We also have project work for the students in the final year, continuous institute – industry interactions, alumni activities, participation in conferences and symposiums, seminars, counseling of the students on job opportunities, facilitating industry visits and inviting distinguished speakers to add values in our programs.
Our students today are occupying converted positions in Multinationals, corporate and other organizations with excellent compensation packages.
List of Recruiters:
| | |
| --- | --- |
| IT | Core |
| TCS | CCCL |
| Infosys | CBRE |
| Accenture | LnT |
| Cognizant | |
| Sutherland | |
Placed Students List:
S.No

Company Name

Students Placed

Batch

1

CCCL

Chandru V

2014-2018

2014-2018

2

Deva M

3

Soundarapandiyan.P

4

Boobalan S

5

Saravanan N

6

Infosys

Akilandeswari.J

7

Rosery Dieona.V

8

Santhosh.S

9

Accenture

Arun Cheziyan. N

10

Arun Kumar .K

11

Balaji K.P

12

Dharani .M

13

Sonali.H

14

Sowndarya.P.G

15

CCCL

Bhalaji.V.S

2013-2017

16

Infosys

Adeline Timiah.M

17

Satheesh.P

18

Sharad Sriram

19

CTS

Kishan Kumar.S

20

Lisanth Krishnan.M

21

Malini Preetha.M

22

Nishanthi S.

23

Suhasini.L

24

Accenture

Akshaya.S

25

Ashwin Kumar.P

26

Dinesh.C.Pandyen

27

Harshil.S

28

Harshvardhan.P.Yadav

29

Jayashanthini.B

30

Lokesh.M.M

31

Sarath Kumar.J

32

Shruthe.M.S

33

Sowmiya.K

34

Sriranjani.G

35

Sumayya Jamal

36

Vaishali.K

37

Face

Kenny Macneil.B

38

Kaar Technologies

Sadhana.B

39

Sutherland

Achuthan.B

40

Adarsh.S

41

Aishwarya.S

42

Anbuchezhiyan.T

43

Aravinda Kumar.E

44

Aravind Krishnan.K

45

Deepika Priya.M

46

Ganesh.T

47

Hariharan.At

48

Sutherland

Kavitha.R

2013-2017

49

Md Tabish Hayat Khan

50

Muthu Kumar.K

51

Ramkumar.B

52

Ranjith Kumar.A

53

Sandra Marianne Anand

54

Shivram.J

55

Srinivasan.A

56

Shrivatsav.P.B

57

Sujit Vishal.G

58

Velmurugan.S

59

Vidhyalakshmi.G

60

Vigneshwaran.K.R

61

Vijay.M

62

Raghavi.K

63

Srinivasan.R

64

Nikitha.R
We are very proud to be one among the department in Meenakshi Sundararajan Engineering College. The department conducts conferences and seminars to enrich the students knowledge.
The academic activities of the department emphasis on deep understanding of fundamental principles, development of creative ability to handle the challenges of civil engineering and the analytical ability to solve the problems which are inter disciplinary in nature.
E 3 - Enrichment, Enhancement and Empowerment
The department conducts Enrichment, Enhancement and Empowerment to enrich the student's knowledge.
The academic activities of the department emphasis on deep understanding of fundamental principles, development of creative ability to handle the challenges of civil engineering and the analytical ability to solve the problems which are inter disciplinary in nature.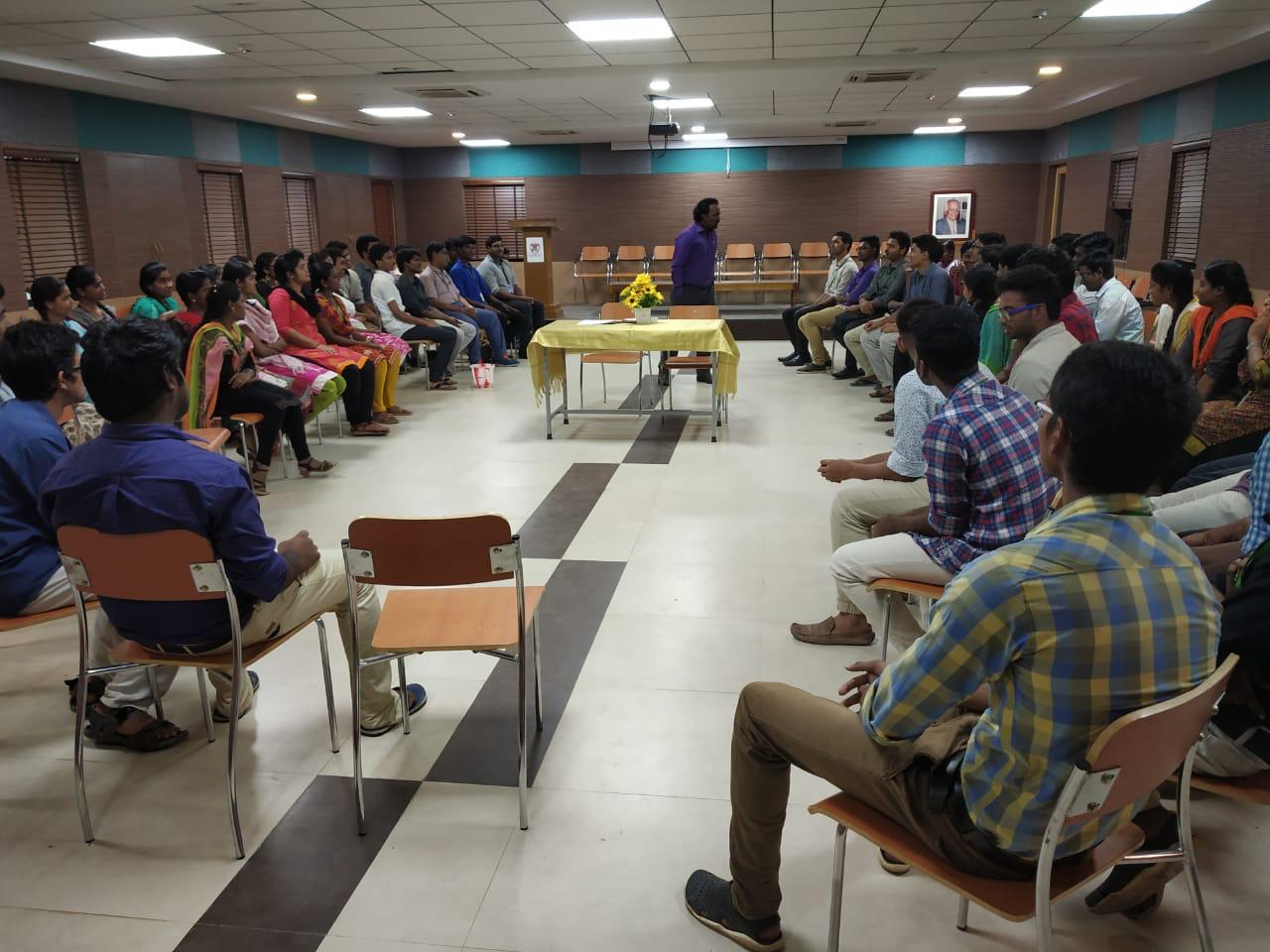 The E3 event was conducted on from 30/07/2018 to 03/08/2018 which focused to emphasis student's attention on acquiring knowledge which exposed them to engineering knowledge.
The details of the event is furnished below:
Sl.

no

Event name

Chief guest/resource person

Event outcome

Sem

No of participants

Date

1.

E3 –paper

presenation

Mr.Bharathkumar

Presentation skill development

VII

67

30/7/18

2.

E3 –project presenation

Mr.L.Narendran

Project Presentation skill development

VII

67

31/7/18

3.

E3-mock interview

Mr.Mukundan

Mr.Ravichandran

Technical interview experience was gained

VII

67

01/8/18

4.

E3 –project presenation

Dr.Radha Krishnan

Project Presentation skill development

V

65

30/7/18

5.

E3 –paper

presenation

Dr.N.Kavitha

Presentation skill development

V

65

31/7/18

6.

E3-mock interview

Mr.R.Ravichandran

Technical interview experience was gained

V

65

1/8/18

7.

E3-Technical group discussion

Mr.M.Kamalakannan

Technical group discussion experience was gained

V

65

2/8/18

8.

E-CUBE- paper presentation

Dr.Sakthivel

Mrs.Nishanthi

Presentation skill development

III

59

1/8/18

Ms.Vidhyalakshmi

Presentation skill development

III

59

3/8/18
Technical Symposium
The department conducts Symposium to enrich the student's organizing skill and improve their technical knowledge/ non- technical talents.
The Symposium event was conducted on 13/09/2018 which was organized by our department. Nearly 200 Students from various colleges in and around Chennai were participated in this event.
The event was inaugurated by our beloved Correspondent Dr.K.S.Lakshmi and our beloved Secretary Dr.K.S.Babai. Swami Vivekananda Statue was inaugurated and new garden was planted in front of Civil Engineering Department.
Various Technical and Non-Technical events were conducted. Some of them are Sur-vadar, Estimation, CAD Quest, paper presentation, Eatomania ,adsap etc.,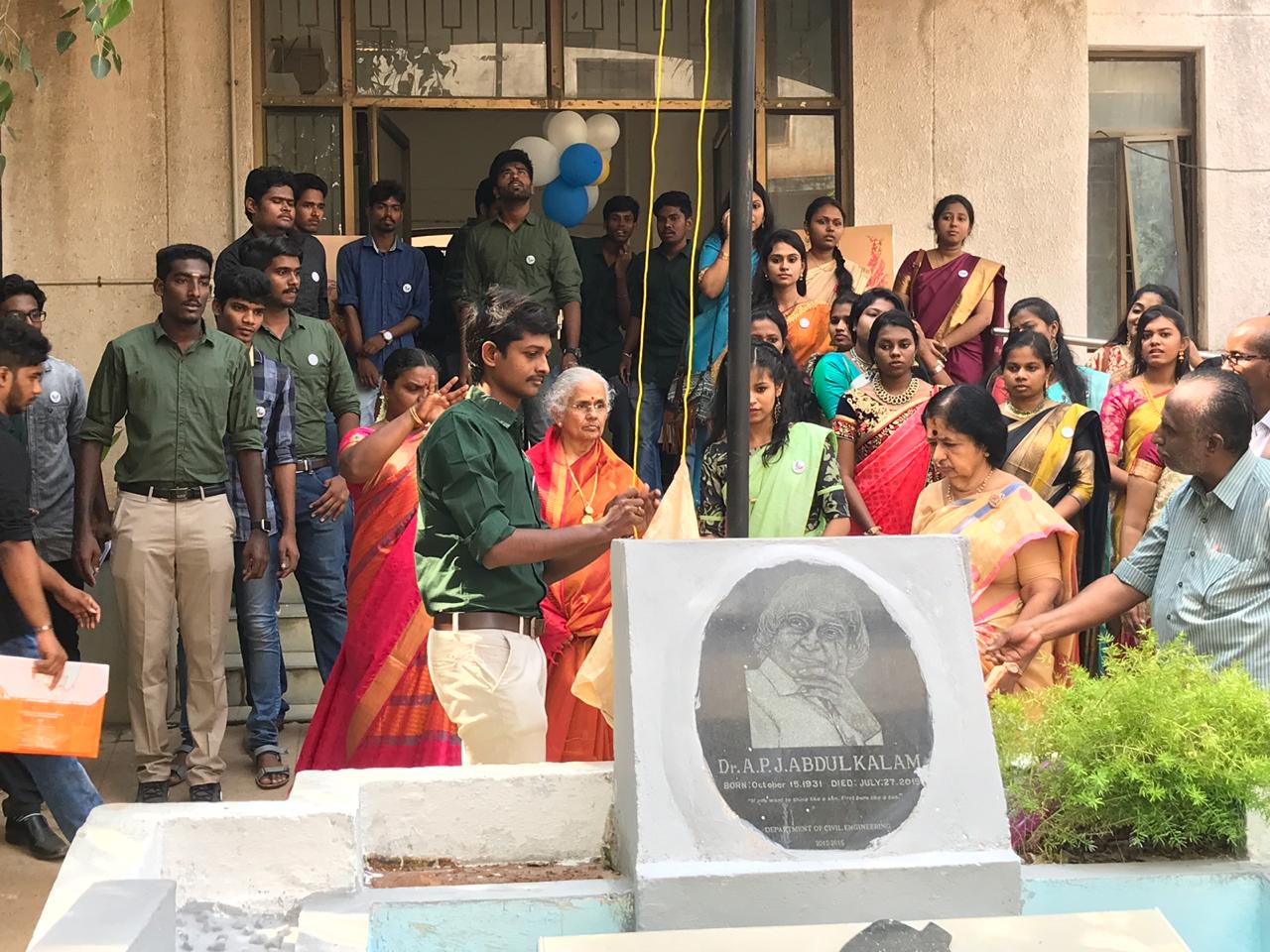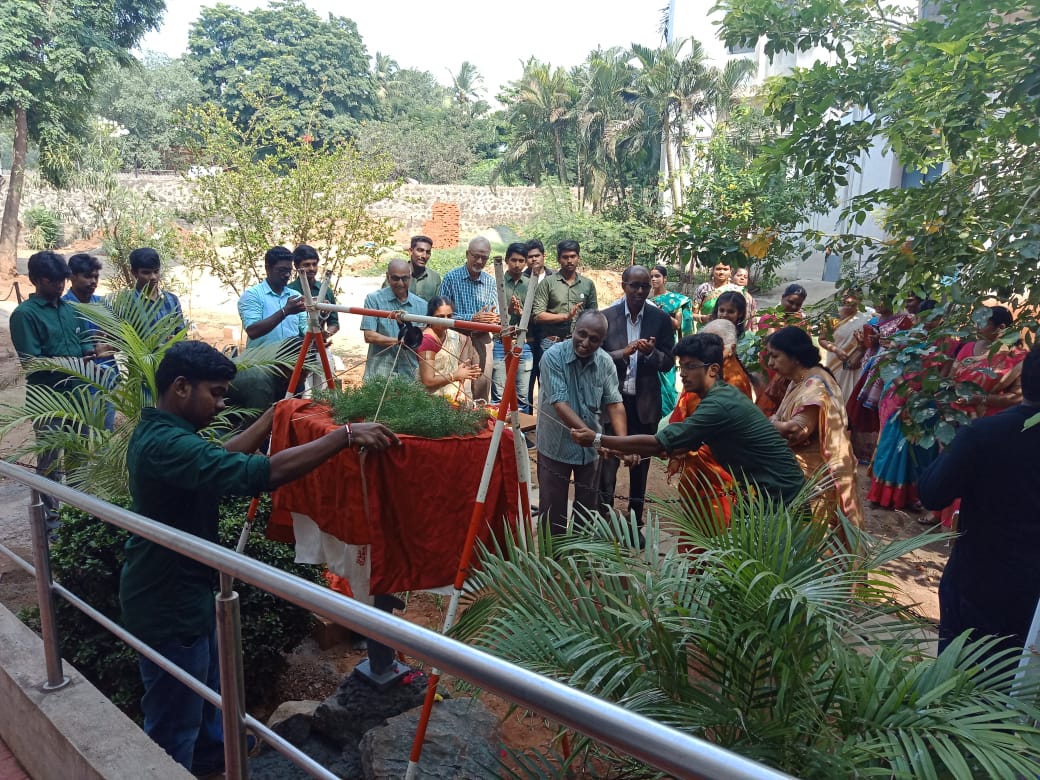 Technical Seminar
The Technical seminar was conducted on "Cultural Heritage And Monument Structures - Conservation And Protection" which focuses our attention on the existing scientific methods adopted in excavation of historically important places and the methods adopted in the conservation of such structures. Presently a lot of thrust is given by the government to rehabilitate the existing structures to preserve and we keep it for our future generation. Certainly we hope this seminar fulfill this need and serve the correct technology to our society and also it will enhance our young and dynamic students.
Conference
The national conference was conducted on "Trends And Transmogrification On Structural Engineering" which focuses on the new upcoming ideas in civil engineering which includes nearly 150 students, 11 keynote speakers from various industrial and research sectors.
Guest Lectures
The department conducts Guest Lectures and Workshops to give exposure for our students on engineering knowledge both in theoretically and practically.
The details of Guest Lecture is furnished below:
| | | | | | |
| --- | --- | --- | --- | --- | --- |
| Sl.no | Event name | Chief guest/resource person | Event outcome | No of participants | Date |
| 1. | Guest lecture on coastal security and ocean engineering application | Dr.K.Sudharshan | Gained knowledge | 191 | 26/6/18 |
| 2. | National level Workshop | Mr.Mohammed Ahmed Salam, | Gained knowledge on water treatment plant,desalination plant and job opportunities in the same . | 191 | 13/9/18 |
| 3. | Guest lecture on Application of GIS | Dr.Kavitha | Wide application of GIS was explained | 190 | 21/9/18 |
| 4. | Guest lecture on Foundation Engineering | Dr.V.Balakumar | Fundamentals in Foundation Engineering was explained | 114 | 28/9/18 |
Career Guidance Program
The department conducts Career guidance program to our students to give exposure for their higher studies at National and International level. These programs also help them for preparing Government Exams.
The details of Career guidance program is furnished below:
| | | | | | |
| --- | --- | --- | --- | --- | --- |
| Sl.no | Event name | Chief guest/resource person | Event outcome | No of participants | Date |
| 1. | Career guidance future plan after studies | Mr.Avaavudaiyappan | Idea for career planning | 191 | 5/2/18 |
| 2. | Career guidance on future plan after studies | Mr.Nagadevan | GATE exam awareness | 191 | 10/9/18& 16/9/18 |
| 3. | Guest lecture on killing two birds with one stone: Research on pesticide treatment in New Zealand | Dr.DavidG.Wareham Dean International And Deputy Pro-Vice Chancellor Of College Of Engineering, University of Canterbury,New Zealand | Gained Knowledge | 191 | 24/9/18 |
We have pride in congratulating our final year students for getting good score in GATE Exam - 2018. Krishna Kumar of final year (2014-2018 batch) scored 640 and Balaji K P of final year (2014-2018 batch) scored 578 in GATE exam - 2018.
About 15 students of final year went for inplant training at Space Designers & Constructions.
About 7 students of third year and 3 students of second year went for inplant training at Chennai metro rail.
About 5 students of third year went for inplant training at L&T Construction.
About 5 students of third year went for inplant training at Southern Railways and a student of third year went for inplant training at Chennai Metropolitan Development Authority.
Research Publications by Faculty
S.No

Faculty name

Name of the paper

Journal

Publication details

Year of publication

1

Dr.P.K Suresh

"Renaissance program for lakes in Chennai city with reference to climate change" P. K. Suresh, S.Bharath Kumar, L.Akshaya, G.N.Gokul1, and M.Gokulakrishnan

Proceedings National Conference on Water Resources & Hydro Power

Organized by University of Petroleum and Energy Studies, Dehradun June 17-18, 2016

2016

2

Dr.P.K Suresh

"Rainfall runoff modelling of lakes in Chennai city with reference to Climate change". P.K. Suresh, S.Bharath Kumar

Proceedings National Conference on Water Resources and Flood Management with special reference to Flood Modelling WRFM

at Organised by NIT Surat on October 14 – 15, 2016

2016

3

Dr.P.K Suresh

"Sedimentation issues of historical Cauvery irrigation system in India "P.K.Suresh, S.Sakthivel , R.Sundaravadivelu R.Panneer Selvam, C.Podupanitilakam

International conference on Historical Water Projects and Traditional Water Technologies in the Asia Pacific Region

IAHR APD 2016, Colombo, Sri Lanka

2016

4

Dr.P.K Suresh

"Ground water scenario of Nagappatinam district of Tamil nadu". .P.K.Suresh , Er.T.Kanthimathinathan and S.Prabhu

Fourth International conference on Petroleum Science and Technology

(ICPST2016) December 2016

2016

5

R Arivazhagan

Influence of hyperbolic model parameters on sand

American scientific publisher

2018

6

M MaliniGayathri

Biogas Generation from Domestic Waste with the help of Algal Sequestration

International Conference on Recent Innovation in Civil Engineering and Management

IJIRSET, Volume 7, Special Issue 4, April 2018

2018

7

M MaliniGayathri

Carbon sequestration

3rd International conference on Materials Mechanics & Management

IMMM07

July2017

2017
ALUMINI TESTIMONIALS:
MSEC has everything that a student possibly wants. It has good credibility in terms of placements. Subject expertise faculties are what make engineering in MSEC a worthy one. Well established labs are provided for practical understanding of course matter especially for civil. MSEC not only focuses on creating bookworms, instead it focuses on creating a holistic engineer. Fun and Festivals are also involved, because this is the age to enjoy!. Location is also comfortable for students since it has multiple transportation availability nearby. Overall, a good college which would be a stepping stone for your career.
Pavithra L
Batch 2011-15
A very prominent phase of my life was chiseled at MSEC. It's strong and determining aura always induced in me a renewed vitality. Strongly refined, delicately molded and intricately designed, I stand proud, bearing the indelible imprint of MSEC.
EUNICE PREMANJALI N (2010-2014)
Civil Engineer cum Urban & Regional Planner.
I am sandra marianne anand and it gives me great pleasure to talk about my home for four years - meenakshi sundararajan engineering college. As an alumnus of the civil engineering department , the environment not only helped me achieve great heights academically but also fostered a nurturing ambience with professors who were superlative guides. Discipline was enforced through daily activities the value of which was known once I graduated. Friendship and camaraderie thrived in our classrooms and studying was fun. My leadership skills came to the fore with Wafes 2014 symposium where I Coordinated the whole event and also learnt to work as a part of a team , which helps me even today. Being a basketball player it helped me mingle with both junior and senior students at college and this also taught me that life is just not about studying, as the college gave me opportunities to excel in other extra curricular activities too. As out college is located in the centre , my residence was the favourite haunt of my friends to catch up with college work.
Sandra Marianne Anand,
2nd year graduate student,
Southern Methodist University, USA
Batch-2017



All the nurturing my professors did back at MSEC, is what I am today, learning to stand independently and thriving to achieve my future goals. My college gave me beautiful memories and am proud to have been part of this great institution and my alma mater will always remain close to my heart.
Bupesh
Geotechnical Engineer
Oman

MSEC is a brand that would add value to your profile. The assignments and number of class tests will be tough, yet will help you learn. The e-cube, symposiums, one day seminars and workshops will help you develop your soft skills. Overall, these exposures will aid your development. Grab the opportunities and make use of the platform.
Sharmila Rajasekaranan
University of Sinagopre
MSEC has helped to develop several world-class engineers. The molding of each generation of engineers is seen personally by beloved staff of MSEC. The students of MSEC have streamlined into government organizations, PSU's and several reputed design MNC's due to their persistent thirst of knowledge and passion. They are trained in a manner to readily handle the corporate and fast growing technical world.
Shivaditya (Batch 2009-2013)
Geotechnical Engineer,
COWI
I graduated in 2014 with a Bachelor of Engineering in Civil Engineering from MSEC. I had friends at other local colleges bragging about how easy college was. I was the opposite. I complained about how hard college was. But MSEC pushed me to the edge, towards my potential, and then asked me to turn around, go back, and do it again. Four Years, later I thank "MSEC" & especially "The Department of Civil Engineering for preparing me with the ironclad determination that they knew would be needed for my successful, fun, and amazing journey in my very progressive career in Construction. The professors really focused on subjects that prepared us to face the challenging Industry which is construction, which I'm still grateful to have. MSEC has helped me advance in my career, which lead me to pursue Master's degree in Construction Management in one of the Top University for construction degrees in USA.I currently work in one of the top Multinational Construction Company In USA. I would recommend MSEC to anyone looking to have a successful career and advance their careers in Construction.
Subiksha Ravichander
Preconstruction Estimator
DPR Construction
USA
MSEC has nutured me and made me what I am today. It made me more disciplined and helped me to grow not only professionally but holistically as a good human being. MSEC has excellent teaching faculty with well equipped labs, ventilated classrooms, library etc. The right atmosphere is created to the students by the teachers in the classroom to mould the personality of each and every student. MSEC not only impart knowledge but also instills life skills in us to make us socially responsible citizens. In this competitive and expensive era, the objective of MSEC is imparting quality education at affordable cost which is really praise worthy. I am really fortunate to study in this prestigious institution which provides a perfect platform to students to prove themselves. I thank all my teachers and MSEC who has helped me to reach this position.
Divya.P
Senior Design Engineer
L&T Construction
Batch: 2011-2015
Civil Engineering
MSEC provided a high standard of education with which we are able to face the challenges in this era of technology and innovations. The classroom environment they created made us learn peacefully and effectively. The dedicated building for Civil department highly equipped with source of practical knowledge, the laboratories made us apply and understand the content in syllabi. We praise, thank and appreciate the faculty team who were dedicated more than themselves in teaching. Their approach in teaching out of books enabled us to outstand in all objectives in the field. Through events - E-cube and Symposium they made us understand the perspectives of different people, innovations and proved our inner potential wisely.Along with the knowledge, they never relinquished to impart moral values in our hearts. Which still blooms in our spirit and it will in the future. The life what we live now proves the very first motivation given by the halls of ivy that the four year education will take care of forty years of life. We wish our alma mater to continue creating more young buds intelligent and a good citizen.
Hari Hara Sudhan (2011-2015 batch)
Quantity Surveyor - Civil
Reem Capital Contracting LLC
Muscat - Sultanate of Oman
Research:
It's about people and their lives, everywhere. We challenge the status quo with our research and educational programs, advance the frontiers of knowledge, expand the limit of the possible, and innovate. Using science and engineering, we solve some of our time's toughest challenges through the creation of systems with large-scale tangible impact at the nexus of environment, infrastructure and people.
We develop and use pioneering approaches that range from basic scientific principles to complex engineering design, at scales from the nano to the global.
The positioning of civil department is defined by a set of strategic challenge areas (addressing major societal challenges) and academic fields of interest. The academic fields of interest reflect the intellectual disciplines of our faculty, their academic background, and teaching interests (and is reflected in their contributions to our academic programs for undergraduate and graduate studies ;)The academic fields of interests define how Civil faculty and students contribute to the strategic challenge areas. The strategic challenge areas reflect a set of five broad areas that are research priorities for :
Ecological Systems
Resources and Sustainability
Structures and Design
Urban Systems
Construction Engineering & Management
The department is equipped with various equipment's to undertake research and consultancy activities.
The testing activities includes
Cube compressive testing
Tensile test of steel rod
Tests on Bricks, Paver blocks, tiles, etc The consultancy activities include
Mix design of concrete Design of Buildings:
Stability checking of buildings and towers
Design of liquid retaining structures, etc
Industrial effluent treatment
Municipal sewage treatment
Solid waste management
Water quality monitoring-Construction Purpose
Air quality Monitoring
GPS Surveying
Every year students participate in various sports activities like cricket, basket ball, Foot ball, carrom, badminton etc within and outside premises, one of the salient features of which is students of civil engineering department won basket ball match in Anna University.
S.No
Name of the Faculty
Qualification
Designation
1
Dr. K.S. Babai
B.Sc, B.E., M.S., Ph.D
Secretary
Dean College &Hostel
2
Dr. P.K. Suresh
M.S., Ph.D
Principal
3
Mr. V.S. Sampath
B.E.(Civil), M.Tech, [L.L.B], [Ph.D]F.I.S
HOD &Professor
4
Dr. L. Ramajeyam
M.E., Ph.D
Dean-Professor
5
Mrs. U. Nirmalambal
M.E
Assistant Professor (Sr)
6
Mr. R. Arivazhagan
M.Tech., [Ph.D]., AIME(I)., AMIE(Lon)., B.Sc
Assistant Professor (Sr)
7
Mrs. G. Anbu Neema
M.E
Assistant Professor (Sr)
8
Mrs. M. Malini Gayathri
M.E
Assistant Professor (Sr)
9
Ms. K. Nithya
M.E
Assistant Professor
10
Mrs. N.S. Anwaya
M.Tech
Assistant Professor
11
Ms. T.P. Kavitha Selvam
M.E
Assistant Professor
12
Mrs. S. Saravanan
M.E
Assistant Professor
13
Ms. R. Manju
M.E
Assistant Professor
14
Mr. M. Muthukumaran
M.E
Assistant Professor
15
Ms. R. Mathisree
M.E
Assistant Professor
16
Ms. A. Subbulakshmi
M.E
Assistant Professor
17
Ms. N. Sivaranjani
M.E
Assistant Professor